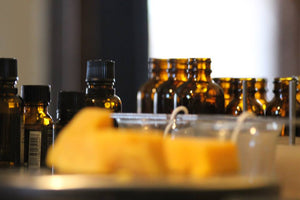 Besides Minding your Own, What do you do with Beeswax?
Beeswax has many beneficial properties such as is it moisturizing and conditions the skin. It is said to be a natural air freshener when burnt (and gives off the wonderful aroma of honey!). But if you're not into ruining your cookware to make your own lotions, deodorants, and candles (you can leave that to us!), what can be done with just a block of beeswax? 
We've created a small list to give you some ideas:
1.) Use it on hinges to stop any squeaking.
2.) Lubricate drawer edges so they glide more smoothly. 
3.) Put it on screws before putting them in wood to keep the wood from splitting. 
4.) Coat metal tools in areas with high humidity to prevent corrosion.
5.) Use it on sewing thread to make it stronger and prevent tangling. 
6.) Use it to coat a cast iron pot. 
7.) Make your own beeswax food wraps to reduce your use of plastic bags. 
So if you're looking for a more natural alternative to WD-40 or other synthetically-made waxes, contact your local beekeeper and try out some beeswax. A little goes a long way, but is very diverse, malleable, and easy to work with! 
(This is a condensed version of a list found in The Beeswax Workshop by Chris Dalziel, copyright 2017 by Uysses Press, Berkeley, CA.)
---