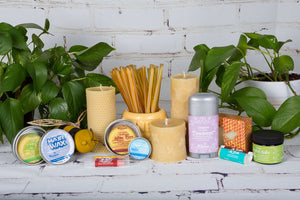 The Wholesome Ambition
The Wholesome Hive strives to be a self-sustaining small business that focuses on the physical well-being of the local customer through the education and use of high quality, homemade, chemical-free, all natural body and home care products.
Learn more about us.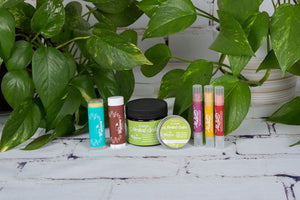 Treat Your Skin to the Best!
Have you experienced dry skin or chapped lips this summer? It's The Wholesome Hive to the rescue with your choice of moisturizing, sun protecting lip products as well as Herbal Salve for treating dry skin, scrapes, burns, insect bites, and more!
Testimonials
The herbal salve is a must-have! I have used it on everything from rosacea, to minor cuts and scrapes, to severe diaper rash. I am always amazed at the overnight results !

Molly Yost, Hartville, Ohio
My favorite product is the <herbal> salve, due to its versatility and simplicity. My one-year-old had a patch of eczema on her foot that would NOT go away with any other product we used. The first use of the healing salve cleared it up. We use it as a moisturizer, but it also helps with bug bites and hangnails! I put some salve and a Band-aid on my bites and they disappear literally overnight.

Deb Maxwell, Massillon, Ohio
I began buying products from the Wholesome Hive a few years ago. I was looking for an all natural deodorant, and had tried several from different health stores and pharmacies. My main concern was finding one without aluminum because that is so bad for your health! Each one I tried either helped with perspiration or odor, but I could not find one that helped with both. Until I tried the Wholesome Hive's all natural deodorant. I feel fresh and clean all day long!

Tina Rosenberry, Canton, Ohio
I started using <the Body Butter> as my every day lotion when my youngest was born. I wanted a lotion with all natural ingredients instead of the scented lotions I had been using. It made a huge difference on my baby's skin! My other children had terrible acne when they were around a month old. But this time we saw a dramatic difference with her clear face!

Lisa Maclennan, Concord, CA
I love The Wholesome Hive's Lip Luster! Creamy like the Lip Butter with a light color and shimmer. Perfect for everyday and always in my pocket!

Dayna Yurkovich, North Canton, Ohio
Welcome to The Wholesome Hive
Specializing in all-natural beauty products made from locally sourced bee products, The Wholesome Hive has been helping customers make the switch to natural body care since 2013. Offering more than just home and body care products, The Wholesome Hive also offers expert beekeeping services from swarm capturing to honey extraction and more. Browse our collection of natural beauty products and body care products, beeswax candles, raw honey, and much more. Whether you are looking to begin using natural body care products or seeking the perfect gift for a friend or family member, The Wholesome Hive has something just for you!